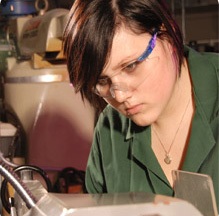 New research by a leading think tank has suggested that it could help to close the gender pay gap by encouraging more women to carry out apprenticeships in industry sectors that are traditionally very male-dominated. The company compared the full-time pay of staff in industries with high percentages of male apprentices to that of staff in industries that have high proportions of females, and found there to be a large pay gap. They suggest that encouraging young women into apprenticeships in the 'male industries' would help to decrease the pay gap across all types of work.
Whether you are male or female, an apprenticeship in any industry sector offers you loads of benefits. You get the opportunity to earn as you learn and you get to apply the knowledge and skills you're learning on a day-to-day basis. Don't be discouraged by perceptions of 'male apprenticeships' and 'female apprenticeships' – review what your interests are and the apprenticeships available that would suit you. Yes, it could be a bit daunting to be among a group of mostly the opposite sex on your apprenticeship course, but you're sure to find that this isn't a problem. Take a look at our case study on engineering apprentice Fay Chicken, for example – Fay completed an Engineering Apprenticeship and was the only girl on her course but found that her ATG Training course tutor soon put her mind at rest.
Why not take a look at the full range of apprenticeship vacancies on ATG Apprenticeships now to find an apprenticeship to suit you!