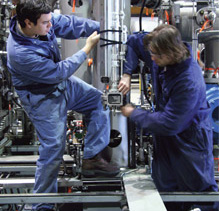 As part of Labour's Party conference in Manchester, leader Ed Miliband said that Apprenticeships would be one of his party's "national goals" if they were in government.  Mr Miliband stated that he would like to see the number of apprentices match the number of university goers by 2025 as part of a 10 year plan to transform the UK.
Mr Miliband stated that many young people he has spoken to argue that schools are not giving the necessary support to for them regarding their apprenticeship options and that previous governments had been "useless" in making proper provision for alternatives to traditional further education.  Currently apprenticeship trainee numbers are still far behind yearly uptake for universities.
As part of this drive, Mr Miliband met a local apprentice, Elizabeth Shephard who is currently doing an electricians apprenticeship and was very impressed with the apprenticeship she was currently doing and was impressed that Elizabeth was "breaking through in what up to now has been a man's world".  Women in apprenticeships are something that we actively encourage at ATG Training and we have our own success story of Fay Chicken who now works at CERN in Geneva.
This "revolution" in apprenticeships would, Mr Miliband said require …"schools to lead a dramatic change in education, providing new gold-standard technical qualifications."
"And it's going to need businesses and government to lead a revolution in apprenticeships."
The response to this pledge has been met with guarded encouragement by The University and College Union (UCU), The British Chambers of Commerce and City & Guilds whose managing director Kirstie Donnelly said the focus should be the quality of what is being offered.  "However what's important to focus on is the quality of apprenticeships, not just the quantity"…"What we need now are details from Labour about how these additional apprenticeships will be created and how they intend to ensure that quality remains high."