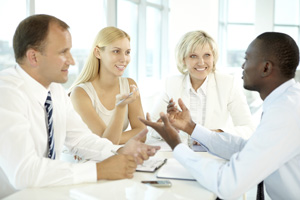 Previously on the ATG Apprenticeships news pages we've discussed our top tips for preparing for your Apprenticeship interview. In that article we suggested trying to think about the questions that your potential employer might ask you during the interview and start thinking about how you would answer these kind of questions in a way that relates to the job role and your relevant skills. Are you struggling to think of what types of questions you might be asked though? Well, although every interview is different, we thought we'd get your thinking started with this list of sample questions:
What made you apply for this Apprenticeship?
Why do you want to work within this industry?
Apprentices work full time and study for their qualification at the same time. If successful, how will you manage and prioritise your workload?
Can you give an example of a time when you have had to work independently?
Can you give an example of a time when you have had to work as part of a team?
What would you say are your strengths and weaknesses?
What are your long-term career goals?
What skills do you think you have that will be relevant to this job role?
We also recommend that you prepare a few questions that you can ask at the interview too. Here a few examples of things that you might want to consider:
Other than the Apprenticeships training, will there be any other internal training?
What will the typical day-to-day responsibilities be in this position?
What routes for progression or advancement are there within the company?
What are the next steps in the application / decision making process?
Hopefully these sample questions will give you a better idea of what to expect in your interview and enable you to prepare and consider the skills and experience that you have that you can highlight to a potential employer.