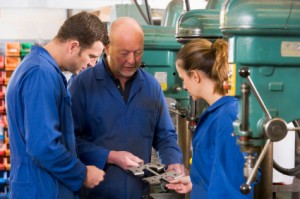 Vince Cable, Liberal Democrat Business Secretary last week launched a new campaign to support apprenticeships. The 'Get In. Go Far' campaign is designed to encourage more young people into Apprenticeships by showcasing the huge variety of Apprenticeships available and the quality of the training and qualifications gained through vocational training. The campaign features real apprentices sharing their experiences.
At the launch of this new 'Get In. Go Far' campaign, Cable stated that "For too long there has been a divide between university and vocational education which has been damaging for both employers and young people. Placing university degrees and apprenticeships on an equal footing will help to break down barriers and better meet the needs of business."
At ATG Apprenticeships, we're really pleased to hear this – we've discussed University vs Apprenticeships before, and the advantages that an Apprenticeship can offer you, and it's great to see that prominent figures are helping to dispel the myth of university education being better than an Apprenticeship. And don't forget to take a look at the case studies and videos on our website for even more examples of how successful an Apprenticeship can be.