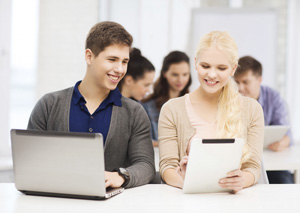 Social media plays such a big part in our daily lives now. Have you stopped to think how your social media accounts and activity could affect your Apprenticeship application though?
A lot of employers, when reviewing CVs and job applications, will search for the applicants on social networks to get a better idea of the person, their personality and their interests. This can help them to judge whether they think that the individual will fit in with the company.
So when you're starting to look at Apprenticeship vacancies and preparing your CV ready for applications, stop and think about how you use your social network accounts. Are the photos that you're posting on Facebook appropriate? Do they present a good image of you? Or do they portray the image of someone that's always out partying and drinking? Research has shown that 47% of employers have a negative reaction to images like this and 54% also react negatively to spelling and grammar mistakes in tweets and posts. So think about what you're posting to your Facebook, Twitter and other social media accounts, and also think about maybe adjusting your privacy settings if there might be anything on your account that you wouldn't want a potential employer to see.
It's also worth thinking about how you might use social networks in your search for an Apprenticeship though. They can be a great source of information about Apprenticeships, the views of existing apprentices on their training and experience and also new Apprenticeship vacancies. For example, the ATG Apprenticeships Facebook page and Twitter profile are updated regularly with new information and some of the latest vacancies available on our site.