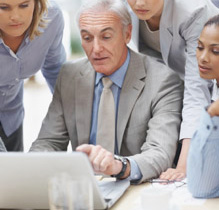 Recent reports show that many small businesses are keen to employ apprentices. The 2014 Albion Ventures Growth report looked at the challenges and opportunities that are faced by small and medium-sized businesses. It found that many of these businesses need to bring in more staff to learn the business and the key skills that they need to grow. The report also highlights that these businesses are looking for employees who will grow with their business.
This is why these companies want to hire apprentices who can come into the business and learn the key skills required for them to succeed. Apprentices have such great potential to progress within a company, continuing to expand upon on their knowledge and skills, and having a great understanding of the business from the ground up.
This is great news for young people, with more and more businesses of all sizes now looking to take on apprentices. With an apprenticeship you can get your career off to a great start in a business of any size – you learn the skills and knowledge that you need to succeed through a combination of training with your training provider and working in your job role to apply these on a day-to-day basis – and all while you're earning! Check out the apprenticeship vacancies that are available throughout a range of industry areas now on the ATG Apprenticeships website now.