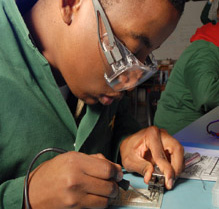 In a recent interview with The Guardian, Richard Branson has said that for years the majority of young people have been encouraged to go to University when for many it is "not the right fit". Branson believes that apprenticeships and vocational training are an excellent option for young people, better equipping them with "the skill sets required for industry".
Richard Branson isn't the first to have voiced this opinion, and it's an issue that we've talked about in the ATG Apprenticeships news pages a few times – is university the best option for you and what you want to do? You shouldn't feel that university is your only option after school, college or sixth form – take the advice and guidance that your school, parents and others are giving you, but make sure that you do your own research and you truly understand the options that are available to you. We aim to provide you with lots of information and answer some of your questions here on the ATG Apprenticeships news pages. For example, if you're considering your options, you might want to take a look at the following articles:
Apprenticeship Levels explained
How far can Vocational Training take you?
Is an Apprenticeship right for you?
Where to find guidance on Apprenticeships
And for more information on particular types of apprenticeship, such the types of roles and responsibilities that you might expect and what the day-to-day work might involve, browse our 'Focus On… series' of articles.