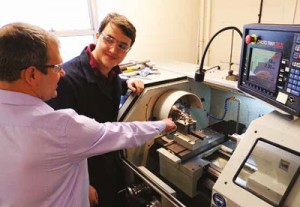 ATG Apprenticeships' very own Mechanical Machining & CNC Precision Engineering Apprentice Ed Smith has been commended for his great work with his employer Moog. 17 year old Ed works at Moog full-time and trains with ATG Training on day release, working towards a Level 3 NVQ.
For more on our  Mechanical Machining & CNC Precision Engineering Apprenticeships please view here
Ed completed his AS Levels, but felt that he wanted to do something more hands-on. "I really like being able to do a practical course knowing that I'm working towards a qualification that will help me in a job that I've already secured" says Ed.
The Mechanical Machining & CNC Precision Engineering Apprenticeship and the job that Ed has at Moog mean that he's learning skills both at ATG Training and on the job and he's learning to apply practical skills. Ed says that "since joining Moog, I've been perfecting my precision skills at ATG Training which is pretty important as I will be doing micro drilling to create fuel injectors".
If you'd like to follow in Ed's footsteps and learn skills and knowledge on the job and through ATG Training, check out the range of Apprenticeship Vacancies on the ATG Apprenticeships website now!