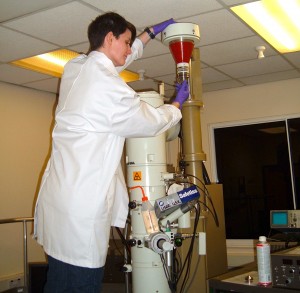 Simply put, as far as you want as long as your drive and determination exists. Take the case of Fay Chicken who in April 2014 takes up a position with CERN in Geneva in the radiation safety office working with X-Rays.
CERN is the location where Sir Tim Berners-Lee invented the World Wide Web in 1989 and Professor Brian Cox – BBC physics presenter – is currently working on the ATLAS experiment at the Large Hadron Collider.
Why become an apprentice?
Finishing school or leaving college is a daunting prospect for many young people as they face major decisions that will affect their future. Unlike many of her peers Fay Chicken, EM Technician at Oxford University, decided to avoid the traditional educational route into University and after taking her AS qualification opted to do a vocational training scheme.
Ever since she was young Fay helped her father take cars apart and put them back together and enjoyed the more practical ways of learning so the very thought of years of pure textbook study put her off the traditional routes of study and gaining a qualification.
With a father who works in engineering Fay was aware of different routes, such as apprenticeship schemes, into the industry and did her own research to find local employers offering such schemes – in 2007 Fay joined Oxford University on a training scheme.
She says: "I wanted to get involved in real work and more importantly learn some real life working skills that I could use in my job. I see so many people with engineering/electronic degrees but who are unable to use the equipment – training whilst I am working enables me to put into practice what I have learnt straight away and really apply it in my day to day work.
"Most of my friends opted to go to University but doing the vocational training scheme has enabled me to learn whilst I am earning. This has not only helped me career wise but also personally by enabling me to be much more financially independent than many of my friends which means I have had the opportunity to travel."
Being the only girl
Engineering is traditionally a very male orientated environment so whilst Fay knew she wanted to go into the industry she was slightly apprehensive about being the only female on the course.
Fay says: "I did work experience when I was sixteen for an engineering company so I've always known it is a very male dominated working environment, however I was quite nervous at the prospect of being the only girl on the Higher Diploma courses. The ATG Training course tutor has been fantastic and really put my mind at rest – he is very open and transparent making it very easy to ask questions, despite being the only female."
What next?
After completing the apprenticeship scheme Fay has gone on to study an HNC & HND in Electrical/electronic and Mechanical Engineering, which Oxford University have supported her to do. This has many different modules with some focusing on the business and management side of things. Fay says, "Learning about management issues from day one means I have a much broader understanding of the business and therefore understand why certain decisions have to be made. Understanding the wider business issues puts me in good stead for the future and set up this wonderful opportunity to work alongside some world renowned physicists at CERN."
If you'd like to follow in Fay's footsteps, take a look at the range of employer vacancies currently available for Engineering Apprenticeships with ATG Apprenticeships, including a vacancy for an Apprentice Mechanical Engineering Technician at Oxford University.