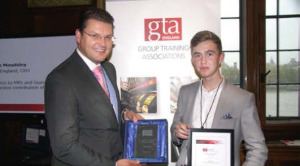 ATG Apprenticeships Business and Administration Apprentice Bobby Duff, who works for British Converting Solutions has won the title of Apprentice of the Year at the GTA England Annual Conference, held at the House of Commons. Bobby was presented with his award by Nick Boles MP Minister of State for Skills and Equalities and was joined at the event by his employer, Simon Penwright and representatives from ATG Training.
Bobby said: "My apprenticeship has had a huge effect on my personal goals and ambitions. I have realised that my apprenticeship is only the start – I have the opportunity and support to progress as far as I want to. More specifically my apprenticeship has really given me a good understanding of how hard work, motivation, and ambition can lead you into a great career!"
Bobby's employer, British Converting Solutions (BCS) currently employs seven apprentices and is taking on three more next year. The company works with ATG Training to list their apprenticeship vacancies, find suitable applicants and provide specialised training modules for its apprentices.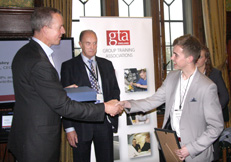 Simon Penwright, Operations Director at BCS says "I genuinely believe in apprenticeships, and the scope for promotion they offer. I can speak from experience, as I commenced my career as an engineering apprentice at sixteen and now I am a company director."
Speaking after the award ceremony, Ian Harper – Chief Executive of ATG Training, said "I am delighted for Bobby who has shown diligence and dedication to the tasks given to him to such an extent that he is responsible for running and controlling a software product with maximum effect. His excellent understanding of manufacturing procedure gives him responsibility for £1.7 million of purchased product for his employer.