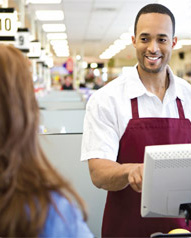 So you have successfully secured the Apprenticeship that you wanted and are ready to start your career in your chosen industry. What can you do now to make sure you get the most out of your Apprenticeship? These are ATG Apprenticeships' top tips to bear in mind when starting your Apprenticeship:
Dress Correctly
We've talked about dressing correctly for you interview in our Focus On… Preparing for your interview But remember that it doesn't end there – you need to ensure that you dress appropriately to attend work once you start your Apprenticeship. What will be appropriate for your workplace will be dependent on the industry and job role in which you will be working – some employers may provide you with a company uniform to wear, others will have a standard workwear policy. When you go for your interview, have a look at what people are wearing to help you see the type of clothing that is appropriate to that business. And if you're not sure, ask the question before you start.
Have A Positive Attitude
It's really important to approach your job role and work tasks with a positive attitude – this doesn't go unnoticed among colleagues and managers, and by being positive and enthusiastic about your work, it may even lead to your involvement in larger projects with the company as you progress.
Don't Be Afraid To Ask Questions
As a new Apprentice, no one is going to expect you to know everything, so don't be afraid to ask questions if you're not sure about something. It's important that you understand your job role and the tasks that you are completing and why things are done in certain ways, especially as you progress through your role and are given more responsibility.
Organise Your Time
Make sure that you know what time you start work and arrange to get there 15 minutes early to give yourself plenty of time to get ready and prepared for the day ahead. Ensure that you have plans in place for how you will be getting to work each day, but if anything unexpected happens that means you may be late, call ahead to let the appropriate person know, and where possible amend your travel plans to try to minimise the risk of being late again. You will also need to plan your study time appropriately – you will probably be doing at least one day a week of training, and working the rest of the week, so make sure plan in some time for any additional study work that you need to complete.
Observe How Senior Members Of Staff Work
You can learn a lot that will help you in the industry and job role you are working in by observing supervisors and managers. Many of them will have started off in a job role just like yours and worked their way up, and you could learn a lot by watching how they speak with colleagues and clients and how they organise themselves.
Starting an Apprenticeship is an exciting time and there will be a lot to learn, but with the right attitude it will be really satisfying to grow and progress in your role with real responsibilities and tasks that will enable you to apply your learning right from the start.