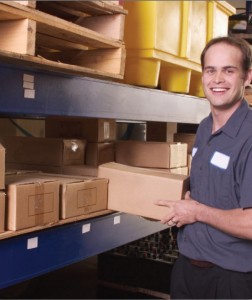 Logistics Apprenticeships introduce you to the logistics supply chain – moving products from supplier to customer. Proper management of the supply chain ensures that things keep moving and that goods arrive on time. As a Logistics Apprentice, you will likely be working as a Logistics Operative within your employer's warehouse, yard and traffic office, and your responsibilities may include:
Loading and unloading goods
Liaising with drivers
Putting products in to storage
Transporting goods to customers
Unloading goods on-site at customer premises
Stock control
A Logistics Apprenticeship also provides you with health and safety training to ensure that you are working safely and complying with industry guidelines. You will also develop skills in communication and team working as you will have to work closely with other team members, drivers and managers to ensure that work is completed accurately and on time.
To get more of an idea of the typical jobs available and, the working hours, wages and requirements, why not take a look at the current vacancies for Logistics Apprenticeships with ATG Apprenticeships? And if you register and sign up for email alerts, we can let you know whenever new vacancies are added to the site.