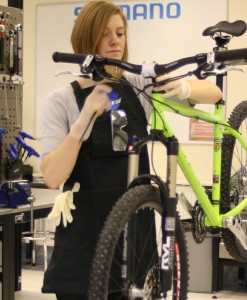 Cycle Maintenance Apprenticeships are ideal for anyone with a passion about cycles and cycling who have an interest in how bikes work. A Cycle Maintenance Apprenticeship offers you the opportunity to work as a cycle or bike mechanic building, repairing and servicing all kinds of bikes. Your training will include health and safety, customer service, how to correctly use tools and equipment and how to troubleshoot problems.
Typical work as a Cycle Maintenance Apprentice includes:
Building bikes from scratch to customer specifications
Completing cycle servicing
Advising customers on cycles and cycling
Identifying problems with bikes and the potential solutions
Completing repairs and/or replacing bike parts
Cleaning, degreasing and lubricating bike parts
Estimating repair costs for customer quotes
Administration of repair bookings
If you are passionate about bikes and cycling, and are interested in starting a career in cycle maintenance, take a look at the range of Cycle Maintenance Apprenticeship vacancies available here with ATG Apprenticeships to find the job role that will start you on your career path as a cycle mechanic.