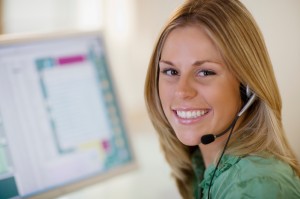 Customer Service Apprenticeships provide you with all of the key skills to provide excellent customer service. Customer service plays a very important part throughout a variety of job roles and industry sectors. Most Customer Service Apprenticeships are completed within the industries of retail, sport and recreation, telecommunications, financial services and hospitality. The types of job roles and vacancies most commonly associated with Customer Service Apprenticeships are 'Customer Service Assistant', 'Customer Service Agent' and 'Customer Service Representative', although these can vary depending on the company and sector – have a look at the latest vacancies on the ATG Apprenticeships website to see the variety of roles available.
When you undertake a Customer Service Apprenticeship, you will likely be working at the 'front end' of your employer's business and will have regular contact with customers to assist them with a purchase, enquiry or other support. Your responsibilities will vary depending on your employer and your job role, but will generally include ensuring that customers are dealt with in a friendly and efficient way. This might include offering them advice, answering their questions or handling complaints. It's important in these types of customer service roles to be knowledgeable about the range of products and services that your company provides so that you can correctly provide advice and answer queries. It's also key that you are happy and able to interact and communicate with all sorts of different people – depending on your employer and job role this may include talking to people on the phone, email communication, 'live chat' on your employer's website or face-to-face conversations.
Customer Service Apprenticeships provide you with great skills that are really useful across any job role that you may go on to pursue in the future. To get started with your career in customer services, check out the available employer vacancies on ATG Apprenticeships now!