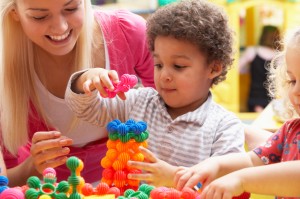 Childcare Apprenticeships offer the fulfilling opportunity of working with young people. This can include children from birth through to 16-year-olds. If you're interested in working with children and you're patient, outgoing, energetic, organised and caring, then a Childcare Apprenticeship could be the ideal option for you.
Typical job roles and vacancies for Childcare Apprenticeships include:
Nursery Nurse
Nursery Worker
Early Years Assistant
Care Worker
Nursery Teaching Assistant
Youth Support Worker
The exact responsibilities involved in your role as a Childcare Apprentice will vary depending on your employer, but generally you will be contributing towards ensuring that children are looked after, that they're kept happy and stimulated, that they are active and that they're happy. Childcare Apprentices also help children to develop their social and practical skills. Your Childcare Apprenticeship will provide you with knowledge on child development and childcare theory, which you will see in application in your work.
If you think that a Childcare Apprenticeship might be for you, take a look at the vacancies available with ATG Apprenticeships. And make sure that you register and signup for email alerts so that you know when more vacancies for Childcare Apprenticeships are added to the website.