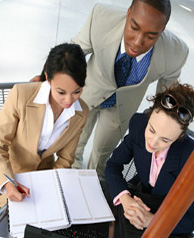 As part of the government's apprenticeships trailblazers scheme a huge range of new apprenticeships are being designed. More than 700 employers are joining the scheme and 76 new apprenticeships are being designed to cover a huge range of new industries and job roles including things like TV production, fashion, boatbuilding, the armed forces, the nuclear sector and professional services.
Business Secretary Vince Cable said: "Our reforms have empowered businesses large and small to design and deliver world-beating apprenticeships that offer a real route to a successful career."
These new apprenticeships will be a great supplement to the wide range of apprenticeships already available with businesses of all sizes, in a whole range of sectors including Business & Administration, Customer Service, Cycle Maintenance, Engineering, Retail, Warehousing and many more.
MP Nick Boles commented: "There has never been a better time to do an apprenticeship. Apprenticeships give you the experience and top-quality training you need to get the career you want. I'm thrilled to be working with UK companies to make our apprenticeship system the best it can be."