Engineering Apprentice Case Studies
Ethan Races Ahead: Maintenance Engineering Apprentice, Ethan Lee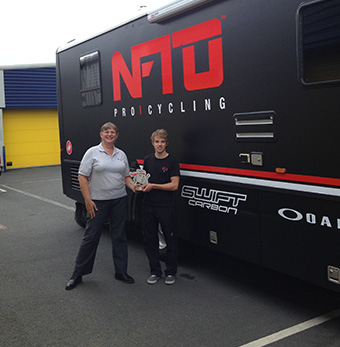 17-year-old Ethan Lee is already travelling the world and has a full-time job, following the completion of his Level 2 Engineering Maintenance NVQ apprenticeship through ATG Apprenticeships, based in Buckinghamshire. Ethan's apprenticeship was with The Shed, a Hereford company supplying and maintaining the world's most prestigious road, racing and MTB cycle brands and equipment. The Shed is co-owned by John Wood, whose passion for cycling, and everything connected with it, has made the unique and innovative bike shop a great success. Run by a team of experienced cyclists, The Shed can custom build bikes for its clients and offers them an opportunity to share experiences, rides, trails and relax over a coffee. John also has his own successful professional road racing team NFTO (Not for the Ordinary), one of whom won the London finish of the 'Classic' race in the summer of 2014.
On completion of his apprenticeship, Ethan found himself in the enviable position of being offered a full- time contract with The Shed and a position as Head Mechanic for the NFTO Racing Team. He admits that he is not traditionally academic and learns best by doing something as opposed to reading about it. "Following the Government's changes to the school leaving age, I have to stay in some form of education until I am eighteen," explains Ethan, "I did not particularly enjoy subjects like maths and English and always preferred design and practical topics. Full-time further education did not appeal to me at all, so I looked for an apprenticeship. Being employed by The Shed whilst I studied for my NVQ, was perfect for me as I have been cycling competitively for three years, and wanted the opportunity to ride for a professional team."
Ethan highly recommends the apprenticeship route as a means to getting a foot on the ladder of your chosen career. Not everyone is suited to learning via traditional further education routes, but that shouldn't limit their opportunities, and Ethan is testament to that. "Although I have completed my NVQ with ATG, I am still learning through experience. The skills I have acquired through my apprenticeship have opened doors for me, and now I am in the wonderful position of having the chance to travel the world with work. Seeing the world is one of the perks of my job; last year I went to France and Spain with the team. "
As Ethan collects stamps on his passport, his wealth of experience and knowledge grows, and as part of a successful racing team, he is doing the job he loves. All thanks to his decision to become an apprentice and to pursue his dream of a career in cycling.