Cein Klaus, Engineering Apprentice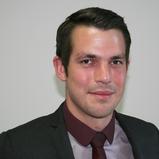 I did not take the 'orthodox' route into recruitment. After finishing school in July 2001 I went to Amersham and Wycombe College to study Photography and Art and Design. After completing my course I moved to Oxford and then onto London where I managed branches of a pub chain.
In the summer of 2007 I decided to move back to Aylesbury. I had always been interested in engineering, particularly design as my father had trained as a maintenance engineer before moving to the UK from Germany in the early 1970's. I had come to the point where I wanted a new challenge with a career path where I could learn new skills.
I applied as an apprentice Engineer to Aylesbury Training Group and was interviewed by Stephen Smyth. I remember after the interview feeling hopeful I would be offered a place, as Stephen really sold ATG to me. When I received the acceptance letter I couldn't wait to start.
While at the ATG I studied the engineering disciplines of Milling, Turning, CAD and Electronics. I enjoyed CAD the most as it allowed me to explore my creative nature but in an engineering context. By the December of 2007, with the help of ATG I arranged an interview with Danielson UK who were looking for an apprentice CAD engineer. I remember being interviewed by Andy Stevens who had told me that he had gone to the same school as me as well as attending ATG and was really impressed at the fact that ATG had been the foundation of his career path and success. I was offered the position on my birthday.
I started my employment at Danielson UK and was immediately given interesting and varied projects to work on, no two days were ever the same and I really enjoyed that. I thoroughly enjoyed working on the customers brief, sometimes working from the most basic of drawings supplied by them, then fully designing the circuitry and graphic overlay and creating a bill of materials and build schedule for the production staff. It was a steep learning curve but throughout I had the support of my colleagues and of my training officer from ATG, Keith Moore.
In February 2009 it was time to move on from my apprenticeship and I had met the technical director of an OEM who used to be based in Aylesbury, Masterfil, now called Adelphi Masterfil who were located in Haywards Heath, West Sussex. I joined the company and using the skills I had acquired boosted the sales of the business by almost half a million pounds in the year I spent there.
I moved back to Buckinghamshire to be nearer my family and started working in the City of London for a healthcare recruitment firm. I found the skills I had learned during my time in engineering extremely beneficial and contributed to my success in the role. The ability to handle several complex tasks at the same time, working to deadlines while delivering exceptional customer satisfaction had all become second nature to me.
The everyday commute between central London and Aylesbury, coupled with the long hours expected in the city meant I did not have much of a work/life balance. I chose to leave in the New Year and started working for Phoenix Recruitment Consultants on a brand new desk recruiting permanent staff with my main focus in Engineering, Manufacturing and large tenders for public and private organisations.
When looking back now my Engineering apprenticeship at ATG & Danielson provided me with skills that to this day I still call upon, even if I am no longer working in an engineering environment. I know from first-hand experience the importance of how hiring the right people and also investing in further skills training can impact a company's future success and growth.
My aim now is to establish Phoenix Recruitment Consultants as a forward thinking and dynamic organisation. My strategy for building a successful brand within the sector is to continue to build strong partnerships and networks across the industry, but to also offer ethical staffing solutions and add value to our clients businesses.
For more on our Engineering Apprenticeships please consult more information here