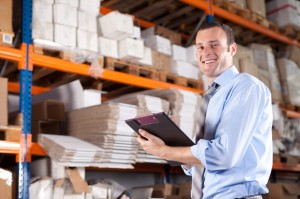 Warehousing Apprentices are a crucial part of logistics operations and usually form part of a Warehousing and Logistics team. During a Warehousing Apprenticeship, you deal with the various elements involved in the movement and storage of goods within a warehouse environment.
It's important that Warehousing Apprentices have a good fitness level as they often have to lift and move around goods within the warehouse – as part of a Warehousing Apprenticeship, you will be taught how to lift items correctly and safely. Not all lifting and moving is done by hand though, and Warehousing Apprentices will often be trained in the use of specialist machinery to get things down from high storage locations.
The specific duties that you will have within your job role will depend on your employer, but could include:
• Managing stock
• Managing the receipt of goods
• Goods storage
• Picking and despatching goods
• Processing returned goods
• Completing inventory audits
Depending on the types of goods being stored by your employer, you might also learn how to preserve the safety of hazardous goods or about storing goods at low temperatures.
Other skills that you'll learn as part of a Warehousing Apprenticeship include teamwork as it is essential that Warehousing Operatives work together to quickly and efficiently achieve time-sensitive tasks. Warehousing Apprentices also improve their spatial awareness during their work and training as they learn to proficiently load and store numerous goods that will vary in shape and size.
If you're interested in starting a Warehousing Apprenticeship, check out the available vacancies on the ATG Apprenticeships website. You can also register on the site and sign up to receive vacancy alert emails so you will know when new Warehousing Apprenticeship vacancies are added to the site.